*I interrupt this month of Fashion, to bring you some real life advice - What you really need for your baby registery.
Registering for baby products can be overwhelming! So I asked some friends, who are new mothers, to share some of their favourite items from their registry to help you out (and me).
Breast Pumps
Medela pump in style breast pump $374.99
I registered for this product and have continued to hear good things about it.
AVENT manual breast pump $59.99
"All the parts are really easily removable which makes it super easy to wash. It's the only thing I'm used to and don't have an electric one to compare it to. I figured I would start with a manual pump and then if I really enjoyed pumping or felt like I needed something more efficient, I would get an electric one."
- Kate, first time mom
1
Medela Washable Breast pads
| 2
Medela Lanolin Nipple cream
| 3
OVer cover
| 4
Nursing Pillow
Nursing Gear
Nipple Cream
:
"This is s
omething that really helped me in the first week!"
"I love my OVer cover because it makes nursing quick and easy when we are out. And, because it's 360 coverage, I never really worry about nursing in public."
A nursing pillow that can double for tummy time and help support baby as they learn to sit on their own. I purchased this one for under $20 (on sale) from Babies 'R Us.

Stroller & Carseat
Uppababy stroller & carseat
"My Uppababy vista stroller is a lifesaver and I'm in love with the uppababy mesa car seat."
- Michelle, first time mom
Bottles & Accessories
I was told not to buy too many of the same type of bottle because sometimes your baby won't like the flow or specific type of nipple, so you'll have to experiment to see what works for your baby.
Dr. Brown's bottles can be purchased in a variety of sizes, glass or plastic, and options for nipple sizes for each stage. A formula dispenser is great for on-the-go bottle feeding! Compartments hold the perfect amount of formula,
so you can have baby's milk perfectly prepared wherever you are.
I was talking with a new mom at my last Dr. appointment, and she suggested getting a
microwaveable sterilizer
rather than electric, for it's convenience. Water tends to calcify over time in an electric version, and also takes longer.
"We purchased this product when our twins were about 1 month old - after a month of mixing formula to supplement along with the breastmilk. The baby breeza is essentially a Keurig for formula. It mixes a perfectly warmed bottle in 2, 4, 6, 8, 10 oz. increments depending what you babe needs. If your a mom of multiples (because 20+ bottles a day is ALOT), or strictly use formula, it is definitely worth the price tag! The only con we have found was if formula builds up around the dispenser it will make a more diluted bottle, but with regular cleaning you won't have this issue."
- Kristen, first time mom to twins
Kiinde bottle warmer
"I definitely recommend registering for a bottle warmer, even if you only plan on using bottles occasionally, because most can be used to warm baby food as well. My favourite is the Kiinde Kozii bottle warmer. Although it's at a higher price point, it has a lot of great features, including; a timer, auto shut-off, a long lasting reservoir and a universal warming chamber.
My least favourite is the Tommee Tippee bottle warmer. While is warms bottles very fast, without the auto shut-off or timer, it has lead to several over heated bottles and two screaming babies! I also found I had to refill the water reservoir more often then my Kiinde Kozii. I would recommend spending the extra money for a higher quality product - it's worth it."
- Kristen, first time mom to twins

Diapering
Kirkland diapers seem to be the top of every budget conscious parent's list. Looks like I'll have a monthly date with Costco!
Aleva natural bamboo wipes
"
They are thick and really easy to pull out of the small packages."
*Money wasters: wipe warmers
Noise Machines
You may be thinking do I really need one? Yes, you do. They help soothe your baby to sleep and establish a bed time routine, which will be the biggest thing on your mind in the few months after baby arrives.
"My favourite is the Munchkin Nursery Projector & Sound System. It not only provides soothing sounds and songs to your babe, but has a projector that displays a variety of rotating colourful images. Features like a nightlight (bright enough for night time changes) and a sensor that turns the machine on when baby cries, set this product above the rest."
- Kristen, first time mom to twins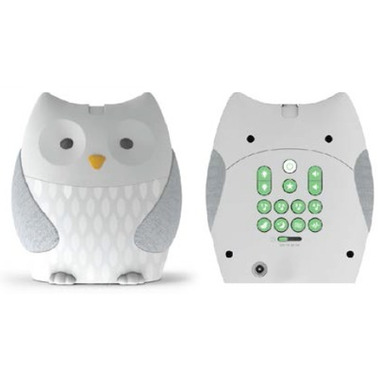 "We found that our baby really likes white noise. We had used the fan on our microwave for a while until we found a noise machine we liked. We use the Skip Hop Owl Moonlight and Melodies Nightlight."
Add a comment »